Governing Body
Our Governing Body consists of 10 members:
2 parents
1 LA governor
1 staff governor
1 Headteacher
5 co-opted governors
We have two committees: Standards (5 members) and Resources (5 members).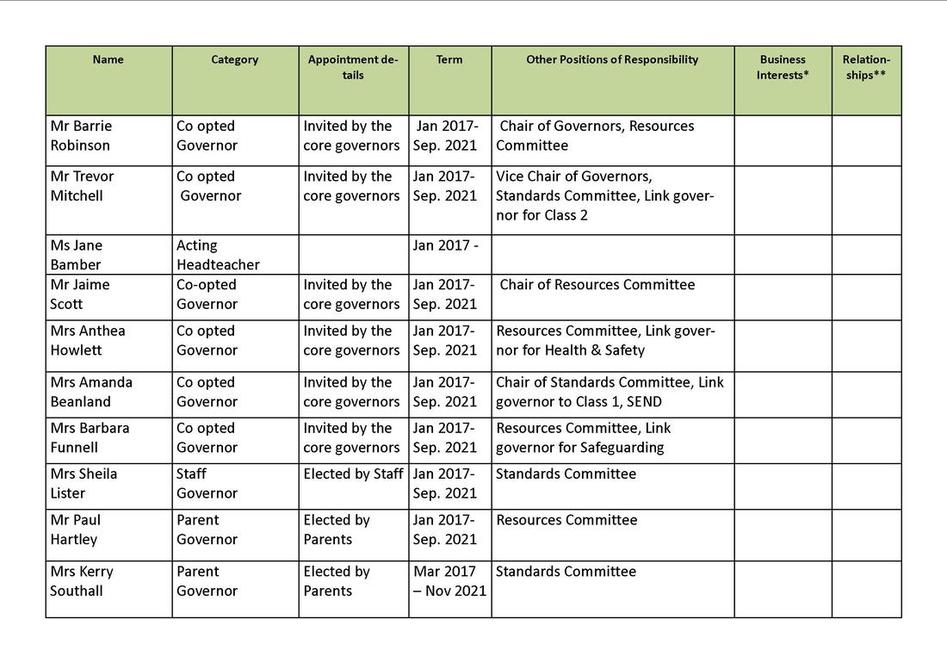 Barrie Robinson - Chair of Governors Co-opted Governor
I am currently working in the leisure industry as Business Development Director. Across my career I have held senior positions within business with a broad range of responsibilities, specifically management of budgets, profit realisation, people management, training and development, leadership, buildings and property management and maintenance and I feel that these skills stand me in good stead to lead the governing body of Osmotherley Primary School.
​I have lived in Osmotherley for almost 10 years and my family and I attend St Peter's church in the village on a regular basis and sit on the PCC. I am also heavily involved in the village community and take my role as a governor extremely seriously and am proud to be involved with Osmotherley Primary School. 
Trevor Mitchell, Vice-Chair, Co-opted Governor
I have been a governor at Osmotherley CP school since September 2014.  I became chairman of the Osmotherley governing body in February 2015. 
My working life has been spent in education. I worked as a teacher in a secondary comprehensive school, a sixth form college and a further education college.  I was a staff governor on the governing body of both the latter colleges, spanning a period of 18 years.  For many years I was a trade union representative.  I appreciate the breadth of responsibilities a governor carries, including safeguarding, finance, achievement and staff relations, and the necessity for independence and scrutiny to be married to moral support of the head and staff.  I believe it is essential for governing bodies to subject themselves to regular scrutiny and evaluation. 
I have lived in Osmotherley since 1989, and been involved in a number of community organisations and initiatives, such as the Osmotherley Society and the (Civil) Parish Plan.  Both of my children spent the entirety of their primary education at Osmotherley School, leaving in 2001 and 2003. 
As well as an interest in grass roots education, I have knowledge of education policy at the national level.
Anthea Howlett - Co-opted Governor Health & Safety
We have lived in Osmotherley since 2008 and we are pleased to be part of the community and contribute to village life.
I am a dentist and, having previously owned my own practice, now work part-time.
I have been Chair of Osmotherley Pre-School for 3 years and have been proud to see the Pre-School develop and flourish during this time.
I am excited about the opportunities the newly formed Mount Grace Federation brings and look forward to exploring and realising these in my new role as governor.no usu.
Jaime Scott - Parent Governor - Chair of Resources Committee
Having played a role in forming the Federation, I'm fully committed to making sure that the children in all three schools receive a decent education within a positive and nurturing environment.
To the governing body, I bring commercial, change management, and leadership experience from working in corporate organisations and consultancy businesses. Outside of family, work, and school commitments, I enjoy socialising with friends and enjoying the amazing countryside around us.
I'm typically at morning drop-off at Osmotherley a couple of times a week and I'm always happy to receive feedback or answer questions from my perspective as a parent and a governor.
Jane Bamber - Acting Headteacher & Staff Governor
I am Acting Headteacher and I also teach EYFS/KS1 at Osmotherley School. I have been teaching at Osmotherley School for over ten years although I have only held the post on a full-time basis since September 2014. Prior to this, I worked part-time at Osmotherley School as well as at Applegarth Primary School in Northallerton. Working in a variety of schools has enabled me to experience the many benefits of small schools but also the advantages of working as part of a larger team. ​Outside of work, I have a family with three sons. I enjoy watching them play football (honestly!), I run and I am a keen member of the Osmotherley Village Theatre group.
Barbara Funnell- Resources Committee, Link Governor for Safeguarding
Originally from Liverpool, I am married with two children and have lived in Ingleby Arncliffe for 24 years. Following my first job as a PA to the export director at ICI, I then went on to be an Export Shipping Manager In Liverpool Shipping Office. When we moved to North Yorkshire I started working for NYCC as a Peripatic bursar and Finance Officer/Administrator and, eventually, Business Manager at several local schools.
I decided to become a governor just before I retired recently because the Local Authority had asked me to attend a Course initiated by Leeds Carnegie University to do with Governance.  The focus of the last session was new Ofsted requirements re Leadership and Governance which made me realise how important it is to have a well informed, strong Governing Body. My personal strengths in this role are school finance and financial planning, HR and Recruitment, safeguarding, policies, project management as well as links with community and local businesses.
Finally, I am enjoying my recent retirement and I do have hobbies: – I am a member of Northallerton Musical Theatre Company and Middlesbrough Operatic Society. I also like to keep fit and since retiring I have been having golf lessons – much to my husband's dismay as he is a keen golfer!
Amanda Beanland - Chair of Standards Committee
I am a retired headteacher who has lived in this beautiful part of North Yorkshire with my family for 30 years. I have also been a consultant headteacher and school improvement partner, working for North Yorkshire County Council. I value the whole curriculum, outdoor education, sport and the arts. I am pleased to be able to continue in education as a governor at Osmotherley Primary School.
Sheila Lister - Staff Governor
For the last 18 years I have worked as a TA both here and in the USA gaining experience in schools large and small. I became a member of staff at Osmotherley Primary School in February 2009 and have seen many changes over the years. Having brought up a family of my own (3 boys) I fully appreciate the importance of a positive and happy start to every child's education. I am proud to be part of a great school which delivers just this. As a member of the governing body I look forward to being involved in the decisions that will enable the school to continue in this vein.
Paul Hartley - Parent Governor
An experienced and accomplished company director, leading large organisations through various challenges including riding out a deep recession, relocating assets and people, understanding and utilising the best of global resources, ultimately delivering success through leadership and great teams. My current role involves motivating sales teams based in ten global locations to meet our common goals. It has been extremely challenging to embrace the cultural differences and drivers in the various locations, but success is still as a result of clear leadership and a huge team effort.
I live with my family in Osmotherley having relocated to the village twelve years ago to start our family. During this time, we have been involved with Osmotherley Primary School, sending each of our three boys to it. Whilst I was (and still try to be!) a keen sports person, I am sure you can imagine my time is now consumed by watching my boys play rather than playing myself. For the past twelve years my family and I have taken a lot of enjoyment from the school and it is now time to give something back. I bring to the role: leadership, change management, setting and meeting targets and financial resource planning, but - most importantly - being a team player. After all,  it is a good team that continually improves the performance of any establishment. I look forward to meeting you if the chance arises.
Kerry Southall - Parent Governor
I am chartered accountant with over 15 years' experience working at senior management level. I have worked with a diverse range of organisations across both private and public sectors, leading businesses through strategic change, managing resources and improving efficiency. More recently, I have chosen to utilise my skills to lead and support charities and not for profit organisations. Helping them to strategically manage their resources without jeapardising the service they deliver.
As a governor, I hope I can use these skills to ensure the school is operated at full potential without jeopardising the children's enjoyment and education.
I have had the privilege of living in Osmotherley since 2008. I have two children, one already attending Osmotherley Primary School and the other due to start in September.
​I have to say, I never thought I would feel so passionate about a school. I guess that's part of being a parent. I believe every child deserves to have a positive experience at school, which is why I chose Osmotherley Primary School for my own children. It has a great ethos and values that are very similar to my own.